Find out about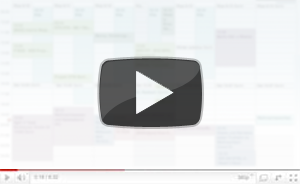 Calex helps you managing your corporate time.
Select your important calendars from any source
and let Calex combine them to one single sheet.
Simplify arrangements of appointments by export your temporal disposability or even all your calendars for a specific period of time and share it with colleagues, co-workers, business partners or even family and friends.
Find appointments easier ...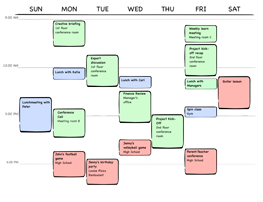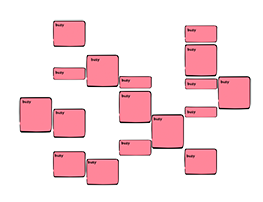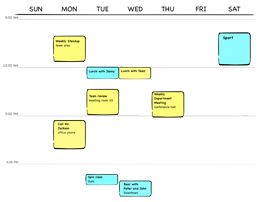 Export your calendar ...
... send it to friends, co-workers, business partners and many more ...
... and let them see your disposability.
Features to share calendar snapshots
Select Calendars

Select all the calendars you want to share events from. Include any calendar connected to your device from various sources - like iCloud, Local, Google Calendar and MS Exchange.

Set a period

Select the days you want to export using the calendar date picker.
You may only include weekends if needed.

Select Details

Do not worry about giving too much insights by selecting the right amount of details for calendar exports.

Add Calendar Names

In order to keep the context of your exported events, append the calendar name to the event's titles.
There are different formats to choose from.

Rename Calendars

It is even possible to rename the calendars by setting aliases.
E.g. to abstract several calendars into one single context.

Share right away

Share right from inside the app via Email, Messages or Airdrop has using all the native sharing options OS X and iOS offer.

Text export

With the latest version you can even include your temporal availability as text included in the automatically generated messages for sharing.

Save exports as ics files

Simply export .ics files and proceed with your personal workflow.
E.g. export all your iCloud calendars onto your iPod Nano, which is not provided by iTunes syncing.
How it looks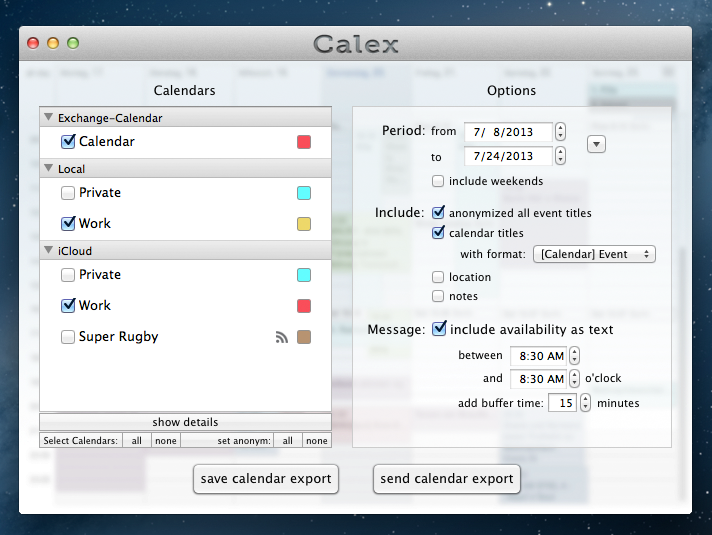 Mac - all in one Window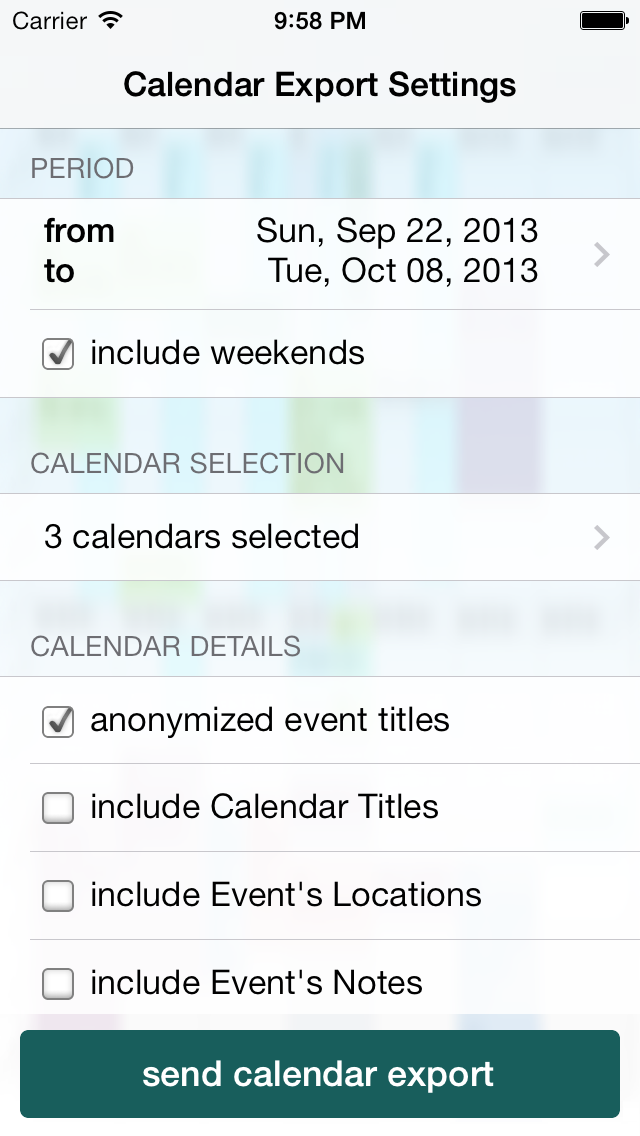 Export Options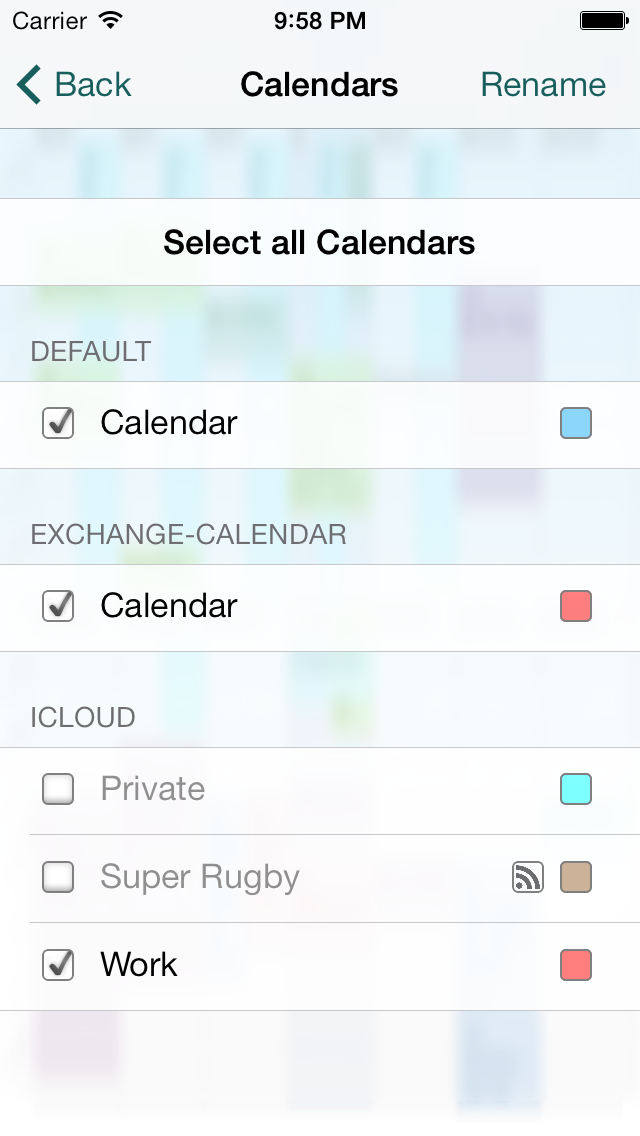 Calendar Selection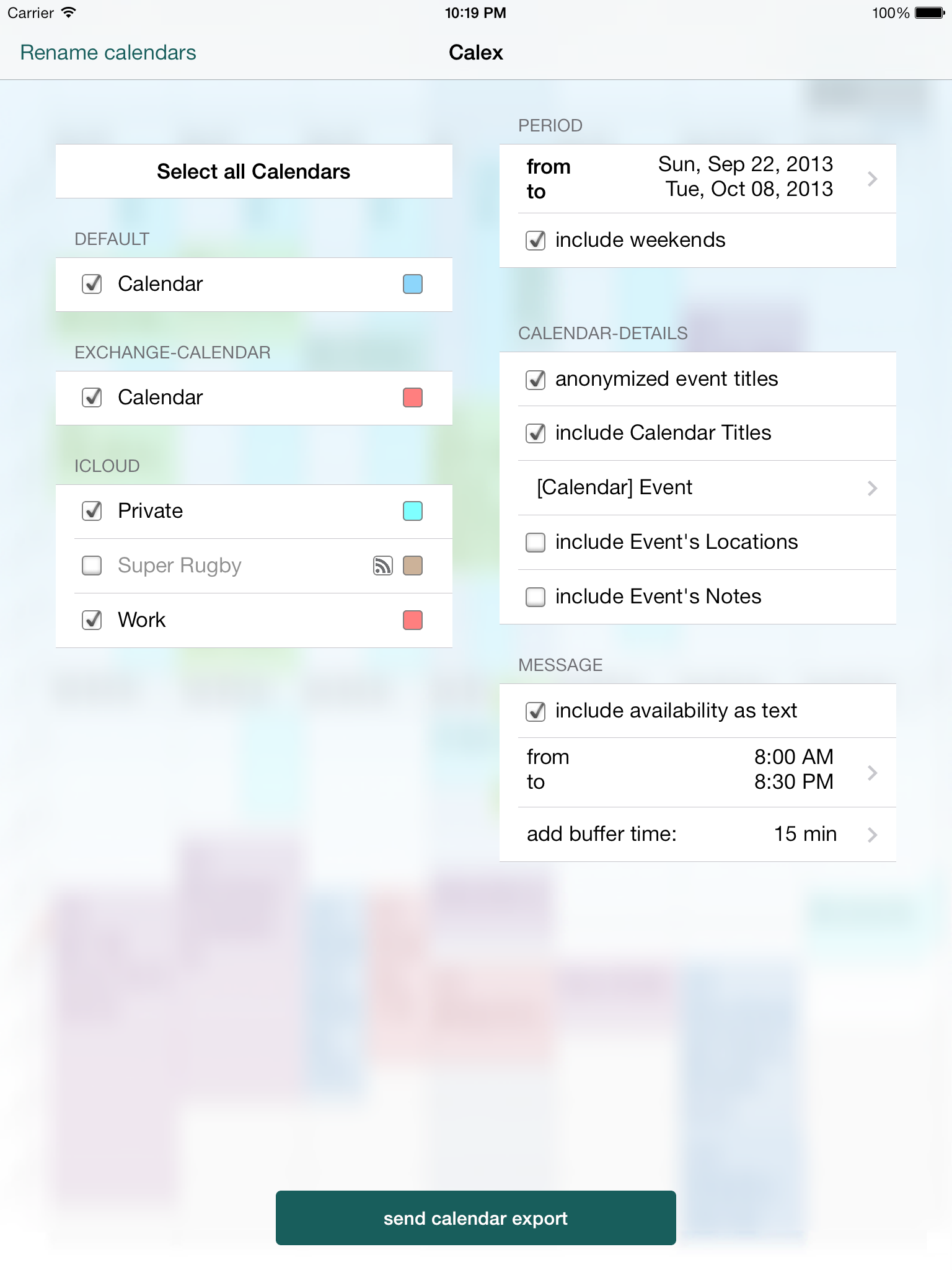 iPad - all in one Screen
How to import ics calendar files
Mac Calendar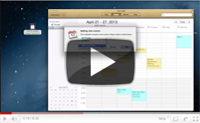 Open the ics calendar file by double clicking it.
In the Calendar Apps Window select "New Calendar"
Press [Okay] and you're done
Google Calendar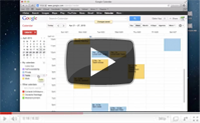 Create a new Calendar

Hit the little triangle next to "My Calendars" to open the menu
Choose "Create new Calendar"
Enter at least a Calendar Name
Click [Create Calendar]

Open the Menu next to "Other calendars"
Choose "Import calendar"
Fill out the form ...

for "File": Choose the ics calendar file on your computer
for "Calendar": Select your new calendar you've just created

Click [Import] and you're done
Outlook
Click File > Open > Import
Choose "Import from an iCalendar (ics) or vCalendar (vcs) File"
Open the ics file

Browse to the ics file
Select it
Click [OK]

Click [Open as New] and you're done

You can also import the ics file into your primary calendar clicking [Import]. However, I recommend using this option so you can easily get rid of all importet events by deleting the entire calender which will be created.
What's next?
Calex did and will come with updates for various more features and enhancements to share calendar snapshots.
If you have any ideas or request in addition, feel free to drop me a line.
[iOS] Use calendar aliases when including calender names in event titles
[iOS] Choose the format for attaching the calendar names to event titles
[iOS] Universal App (iPad & iPhone)
Include human readable text export in your mails.

[Mac OS X] Export your calendas as csv file.

[Mac OS X] Automatically sequential export your calendar to your server in order to provide it for subscription.